Once or twice a month, I go to a scrapbooking crop where together with a bunch of scrapmad ladies we sit on our butt and scrap happily away without interference from outside sources such as kids, hubby or housework! It's a day dedicated to pure scrapping ectasy! Oh and not forgetting shopping too as there is usually a scrapbooking shop within the premise. Today was no exception and we had the pleasure of Crafty Pastimes. Was very restrained in my expenditure and went for the Blond Moment papers in Sugar Dumpling (pinks and purples) and Spring Fling (oranges & yellows). Then had to grab the StazOn white inkpad, some ribbons and alpha stickers!
The rest of the day was spent doing my 2 letters in my A-Z album, J and L. Then completed a LO as well. Here are the results of my productive day: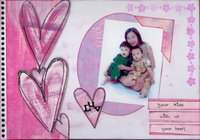 Yeah, it's good to get out and have time out for myself. You feel so refreshed to face another week of mundane lifestyle! Good to know in a fortnight, will be going to another one, this time on National Scrapbooking Day (yeah, it does exist) from 9-9! Another fun-filled scrapping day to look forward to!